'Level 1 dakedo Unique Skill de Saikyou desu' Unveils Main Cast Pair, Additional Staff, Summer 2023 Premiere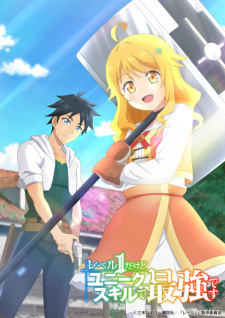 The official website of the
Level 1 dakedo Unique Skill de Saikyou desu
(
My Unique Skill Makes Me OP Even at Level 1
) television anime
unveiled
the main cast pair, additional staff, and a teaser promotional video on Thursday. The anime is scheduled to broadcast in July 2023.
Kaito Ishikawa
(
Tate no Yuusha no Nariagari
) and
Rin Kusumi
(
Slow Loop
) are starring as Ryouta Satou and Emily Brown, respectively.
Staff
Art Director:
Chiho Fukaya
(
Akuyaku Reijou nano de Last Boss wo Kattemimashita
background art)
Color Design:
Aki Watanabe
(
Kami-tachi ni Hirowareta Otoko
)
Director of Photography:
Yukina Nomura
(
100-man no Inochi no Ue ni Ore wa Tatteiru
)
Sound Director:
Masanori Tsuchiya
(
Isekai Shokudou
)
Music:
Endou.
(
Tonikaku Kawaii
)
Yuuji Yanase
(
Isekai wa Smartphone to Tomo ni.
) directs television anime at
Maho Film
.
Yuka Yamada
(
Kobayashi-san Chi no Maid Dragon
) is handling the series composition.
Miyako Nishida
(
Uchi no Ko no Tame naraba, Ore wa Moshikashitara Maou mo Taoseru kamo Shirenai.
),
Eri Kojima
(
Leadale no Daichi nite
),
Kaho Deguchi
(
Kami-tachi ni Hirowareta Otoko
), and
Yuuko Ooba
(
Akuyaku Reijou nanode Last Boss wo Kattemimashita
) are the main character designers.
The anime adapts
Nazuna Miki
fantasy novel
, which
began
on the Shousetsuka ni Narou website in February 2017. Kodansha began publishing the series under its Ranobe Bunko imprint in August of the same year, featuring illustrations by
Subachi
. Kodansha shipped the seventh volume in December 2019.
Mawata
began drawing a
manga adaptation
on the
Suiyoubi no Sirius
website on May 2018. Kodansha shipped the tenth volume in October 2022.
Kodansha USA licensed the manga in English in
November 2020
for digital release and the light novel in
March 2022
. The eighth volume of the manga released on August 2022, and the first light novel volume was released on January 17.
Teaser PV
Source:
Comic Natalie