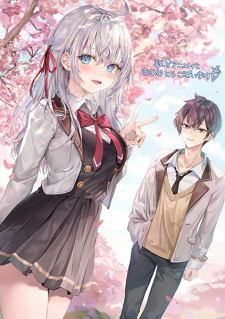 The official Twitter of
Sun Sun Sun
's
Tokidoki Bosotto Russia-go de Dereru Tonari no Aalya-san
(
Alya Sometimes Hides Her Feelings in Russian
) light novel
announced
a television anime adaptation on Friday, revealing the main cast.
Kouhei Amasaki
(
High Score Girl
) and
Sumire Uesaka
(
Ijiranaide, Nagatoro-san
) are starring as Masachika Kuze and Alisa Mikhailovna Kujou, respectively.
Synopsis
Smart, refined, and strikingly gorgeous, half-Russian half-Japanese Alisa Mikhailovna Kujou is considered the idol of her school. With her long silver hair, mesmerizing blue eyes, and exceptionally fair skin, she has captured the hearts of countless male students while being highly admired by all others. Even so, due to her seemingly unapproachable persona, everyone remains wary around the near-flawless girl.
One of the few exceptions is Alisa's benchmate Masachika Kuze, a relatively average boy who spends his days watching anime and playing gacha games. Despite his nonchalant demeanor, Masachika is the sole student to receive Alisa's attention. Unable to be fully honest, Alisa is frequently harsh on Masachika and only expresses her affection in Russian. Unbeknownst to her, however, Masachika actually understands the language yet simply pretends otherwise for his own amusement.
As the odd pair continues to exchange witty and playful remarks, their relationship gradually grows more romantic and delightful—and Alisa might finally learn to freely convey her true feelings. [Written by MAL Rewrite]
Sun originally
began writing
the romantic comedy novel as two short stories on the Shousetsuka ni Narou website in May 2020. Kadokawa acquired the novel and released the first volume in February 2021 under its Sneaker Bunko imprint, featuring illustrations by
Momoco
. The fifth volume was released in December 2022, and the sixth volume is scheduled for an April 1 release.
Saho Tanamachi
began drawing a
manga adaptation
in
Magazine pocket
in October 2022. Kodansha shipped the first volume on March 9.
Yen Press
licensed
the light novel in English in April 2022. The second volume
went on sale
on February 21, and the third volume is scheduled to be released on May 21.
Tokidoki Bosotto Russia-go de Dereru Tonari no Aalya-san
placed ninth and fifth in the light novels category in the
2022
and
2023
editions of the Kono Light Novel ga Sugoi! Rankings. The light novel also placed fifth in the light novel sales by series category in Japan's Yearly Manga and Light Novel Rankings for
2022
.
Announcement
Announcement (Russian Ver.)
Official Twitter: @
roshidere
Novel special site:
https://sneakerbunko.jp/series/roshidere/
Manga special site:
https://pocket.shonenmagazine.com/episode/316112896949465972
Source:
Comic Natalie
Tokidoki Bosotto Russia-go de Dereru Tonari no Aalya-san
on MAL